Families putting aside differences to be with Bobbi Kristina | News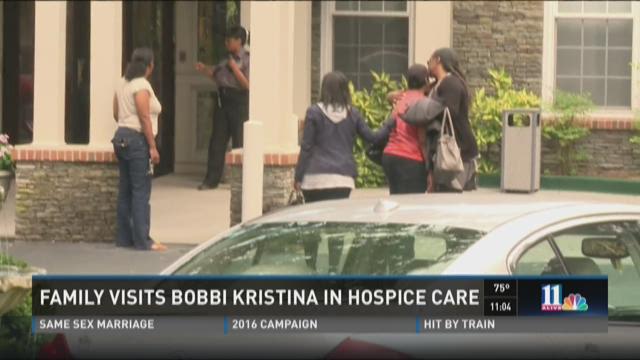 DULUTH, Ga. -- For the first time, Bobbi Kristina Brown's family is setting aside their differences and coming together.
Saturday, 11Alive's cameras were rolling during the emotional reunion of two of Brown's aunts.
11Alive was at Gwinnett County Hospice center where she has been since Wednesday.
There have long been rumors that the Browns and Houstons were at odds.
Earlier that afternoon, 11Alive was the only local station there as Tina Brown and Pat Houston shared a long embrace in the parking lot of Peachtree Christian Hospice.
This appears to be the first time the two aunts have visited Brown at the same time.
Family members had been coming and going all day.
Brown was moved to the 16-bed facility on Wednesday after her condition continued to deteriorate.

Her family said "she's in God's hands now."

She's been fighting for her life since she was found unresponsive in the bathtub of her Roswell townhome back on January 31.
Family members left separately after a short visit.
One person 11Alive hasn't seen Saturday is Bobbi Kristina's father, Bobby Brown.
The last time cameras caught him there was Thursday, when he visited his daughter.
MORE NICK GORDON AND BOBBI KRISTINA STORIES
* Lawsuit: Nick Gordon assaulted Bobbi Kristina, stole thousands
* Bobbi Kristina Brown moved to hospice care
* Bobbi Kristina Brown's aunt disputes media 'lies'
* Bobbi Kristina's boyfriend begs to see her
* Bobbi Kristina's condition 'not improving,' Cissy Houston says
* Deal reached in Bobbi Kristina Brown guardianship
* Bobbi Kristina grandmother: Brain damage 'irreversible'
* Bobbi Kristina is awake, Bobby Brown tells concert goers
* Bobby Brown talks about Bobbi Kristina
* Bobbi Kristina Brown's grandmother breaks silence
* Bobbi Kristina Brown's cousin arrested in Atlanta
* Bobbi Kristina's boyfriend falls apart on Dr. Phil
* Report: Nick Gordon to do TV interview with Dr. Phil
* Bobbi Kristina Brown reality show reports 'nonsense', lawyer says
* Bobbi Kristina suffers seizures
* Bobbi Kristina's boyfriend sounds off on Twitter
* Bobbi Kristina Brown's boyfriend prohibited from hospital visits, lawyer says
* Bobbi Kristina Brown prepared to be taken out of medical coma: source
* Bobbi Kristina Brown's boyfriend 'desperately' wants to see her

* 'Bobbi Kristina' tattoo posted by Nick Gordon

* Bobbi Kristina family on pulling life support: 'We wouldn't do that'
* Bobbi Kristina Brown in crash before medical emergency
* 'False' Bobbi Kristina reports strongly blasted
* Bobby Kristina's family involved in hotel fight
* Cissy Houston heads to Bobbi Kristina's bedside
* Whitney Houston's daughter in medically-induced coma
* Bobbi Kristina Brown is 'not brain dead'
* Bobbi Kristina Brown not married to Nick Gordon, attorney says
* Why Bobbi Kristina Brown is in a medical coma
* Bobbi Kristina tweets she and Nick Gordon are married
* Bobbi Kristina may have left nasty note for Alpharetta neighbors
* Bobbi Kristina crashes car in Alpharetta